Today is my husband's birthday! We LOVE birthdays in our family. We like to make a big deal out of them. It's so fun and it's that person's special day, so why not!? Usually, my husband takes off work for all of our birthdays, including his own, but since Bigs is in school now, we decided celebrate in a bigger way on a different day, so that he wouldn't miss school. But we made my husband's day special!
Bigs picked out that penguin graphic for his Daddy. 😀
I made my husband some gluten free, dairy free cupcakes. And let me just tell you…everything I've touched today, so far, has turned to poopy. This new recipe was, of course, no exception.
For the cake, I followed the directions exactly. Only one difference. Which isn't exactly then, now, is it? The only difference I made was in the type of GF flour, which shouldn't have made the cupcakes try to eat themselves. Oh. I just remembered I did something else different – honey instead of maple syrup. You know we eat a lot of pancakes around here. Maple syrup doesn't last. But honey should be a very viable replacement. Right??
Let's rewind, shall we? One of my wonderful friends sent me a recipe that was right up my alley – gluten free, filled with vanilla flavor and healthy zucchini.  But let's not mince words – It's not exactly unheard of for me to follow a recipe exactly and have it turn out…um…not so appetizing.
Let's call this a case of "I did the best I could". These cupcakes looked slightly less than decent right out of their trip to the oven. But I knew there was more to the story…that top middle cupcake was already warning me…mocking me.
Within three minutes and a transfer to the cooling rack, those little – I am lacking the correct word for them – "beauties" began to sort of eat themselves.
I literally have never seen such a thing, even on a soufflé.
Let's bring on the frosting, because THAT makes everything better, right?
RIGHT??!!
No.
Not always. I'm sorry if that popped any sort of frosting-makes-it-better theory you may have had.
But you'll be in good company. My frosting bubble is completely deflated.
Sort of like my cupcakes. But not as bad.
This one is my fault though, like, for sure.
The two-ingredient-vegan frosting recipe required chocolate chips (check!) and full-fat coconut milk (che…oh. of COURSE I don't have full fat, because whilst at Publix earlier on, I did the 'right' thing for my slightly less than girlish figure and got 'lite' [seriously…lite? you can't throw a 'g' or an 'h' in there?] coconut milk).
So. my lovely, fluffly, whipped chocolate frosting turned out to be just a simple ganache. Not normally a bad thing. But totally so, when you are expecting something along the lines of this: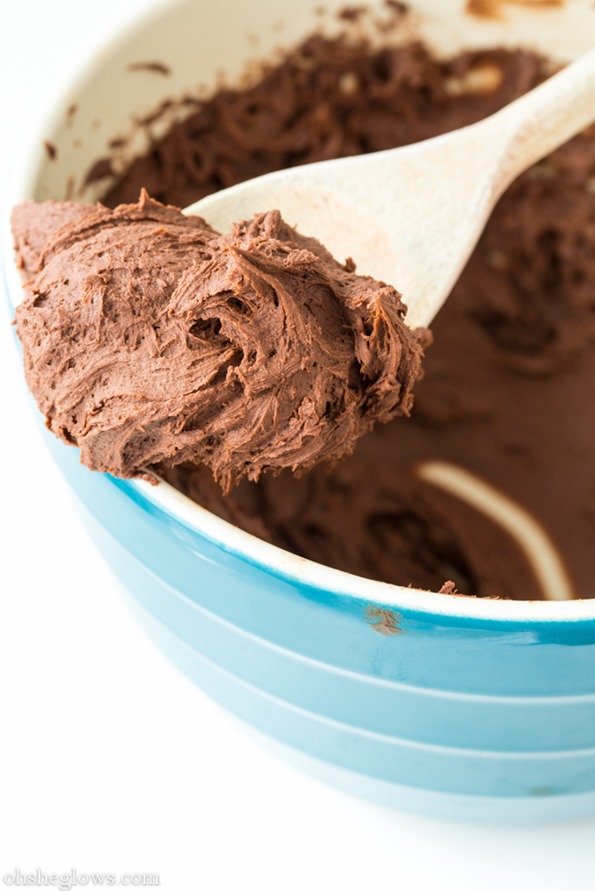 Say it ain't so.
"So yeah…uh, definitely they were supposed to come out like this!
Especially that wonky one on the top left…you know I like weird stuff."
Oh, sorry, just practicing my Happy Birthday speech to my husband, who deserves the best ever cupcakes in the world. So glad I could come through for him. 😀
I have to admit that I tried one, too. I mean, I can't put my baking name on the line without trying my product, right?
They were about what you'd think they'd be like, considering my day's track record.
A bit greasy, half baked, sort of oddly fried on top. And now covered in a too rich, too thick, cloying chocolate ganache.
Yep.
Soooo…..Happy Birthday. May all your dreams that don't have to do with delicious food come true.
At least they look okay if you squint and only focus on the star sprinkles.
And also at least they were all boys that I served them to and they don't care.
I mean, they ate them. They were even better once I'd refrigerated them.
INSERT: The lovely writer of the recipe let me know that coconut flour cannot be replaced, so ooops! I will be trying them again but with the correct ingredients. My apologies! I have learned a valuable lesson. Thank you Kayla!
We ordered pizza, my husband's choice for his birthday dinner!
We got a GF, DF pizza from Domino's:
And for the rest of us (including one of husband's oldest friends), we had pan pizza from Pizza Hut – just the best!
By the by, here are the two recipes I used:
http://ohsheglows.com/2013/05/20/2-ingredient-chocolate-fudge-frosting/
http://healthyalamode.com/2014/02/simply-healthy-vanilla-cupcakes/
Happy Birthday Husband!
Kristin